Every Kind of T-shirt Dress You Should Own (Especially During These Times)!
My partner was relieved when I finally bought some t-shirt dresses —  I kept stealing his large shirts and he was tired of it (especially because we're bad at keeping up with our laundry lol). Through this quarantine, it's my favorite summer trend to wear. So comfy that I sometimes fall asleep in them!
Apparently model Emily Ratajkowski also loves this go-to pandemic fad too. She was spotted wearing a bright pastel t-shirt dress over the weekend while walking her dog Columbo with her filmmaker husband in NYC over the weekend. If you didn't know, her husband Sebastian co-produced the hit film Uncut Gems with Adam Sandler.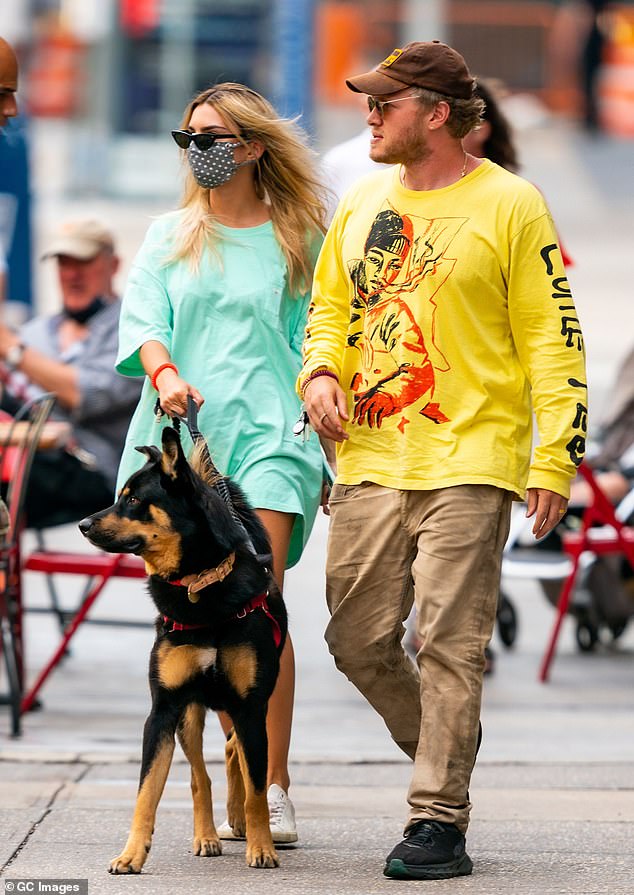 The couple have been married for a couple years now (since 2018). According to interviews, they were friends for a long time before they tied the knot at a courthouse and surprised the world. No one saw it coming. From that time on, the fashionable duo and their beautiful furry son have been turning heads with their rad street-style. They have amazing taste!
T-Shirt Dresses — The Breakdown
Anyway, I told myself I wouldn't buy more, but she has inspired me to find some pastel-colored ones on Amazon. These are the items in my closet I reach for almost daily, I just can't resist! Here are some of my favorites…
Pastel T-shirt Dresses
Tie-dye Is Back
Match them with a pair of biker shorts like Emily.
The Classic White T-Shirt Dresses
White always looks lovely with a summer tan!
Nude & Neutral T-Shirt Dresses
I love the aesthetic of flesh-tone hues, these days they take over my closet.
Must Have T-shirt Dresses in Black
No explanation here, black looks great on everyone.
Long Maxi T-Shirt Dresses
I don't currently own a Long T-shirt Dress, but these have been in my cart for awhile.
Striped T-Shirt Dress For French Girl Vibes
I've always been a fan of stripes – love them on my pants, sweaters, bed sheets, pillows – practically everything!
Shirt Dresses with Big Pockets
I only have one t-shirt dress with pockets, but everytime I wear it I wonder why I don't have more. When I'm running around the house during chores with my airpods in, I realize how much I truly appreciate big pockets for my Iphone or whatever trinket I need handy.
Graphic Over-sized T-shirt Dress
Celebrities from Rihanna to Zendaya pull this look off so well. Riri might have invented this look.
How To Wear a T-Shirt Dress
What I love about t-shirt dresses is that you can wear them casually like Em Rata does so well, or you can dress them up and make them a little bit more fancy like Hailey Bieber.
Here's a few examples of how to wear them, according to celebrity style icons.
Make It Edgy Like Hailey Bieber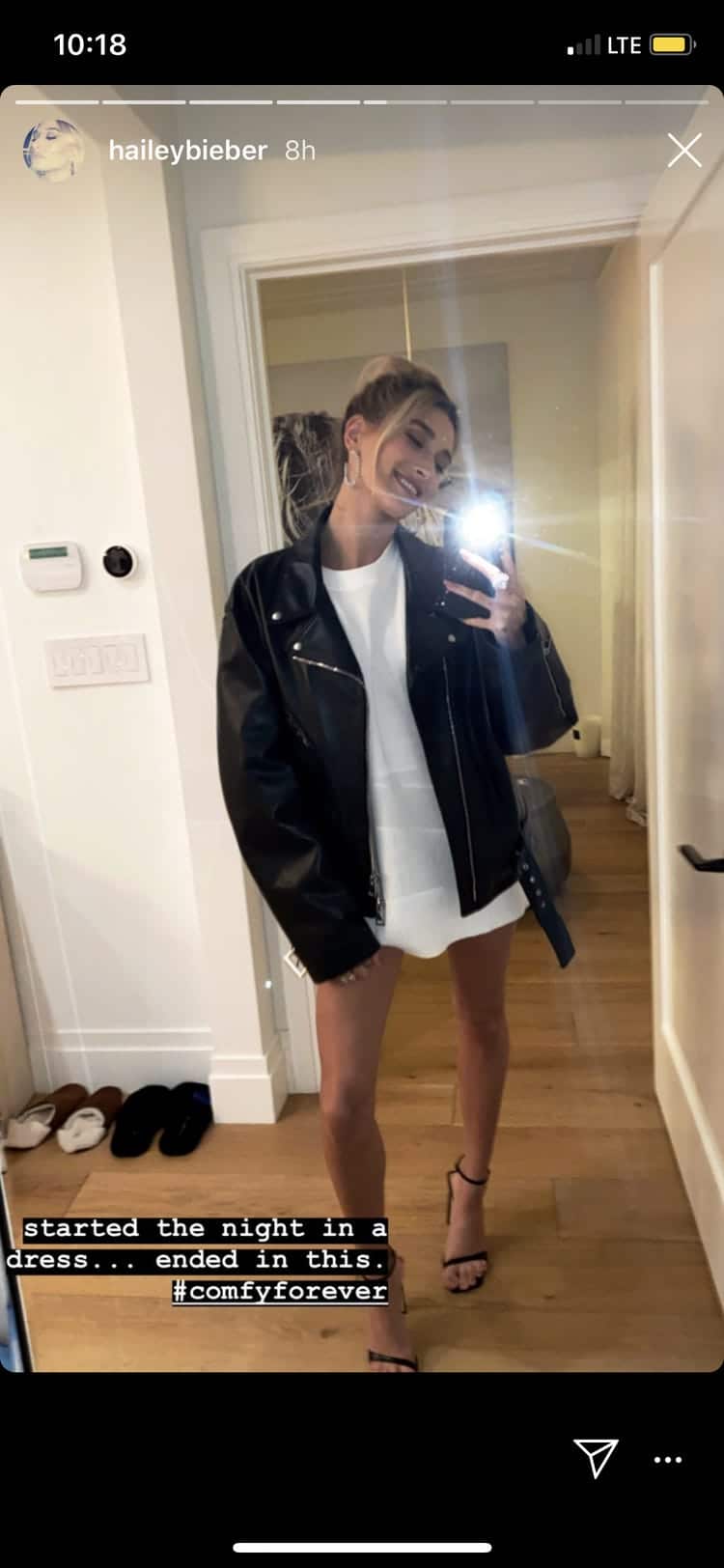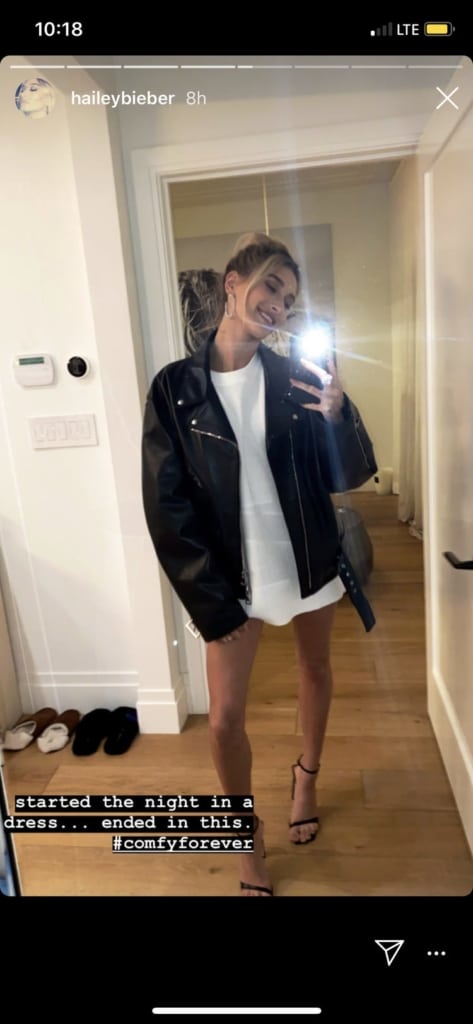 Hailey is an expert at taking a simple clothing item and making it edgy.  For a comfortable night out, she paired some sexy heels with a leather jacket above. For a bold day time look below, she dressed up the white tee with an over-sized 90s coat, Celine angular sunglasses, gold hoop earrings and some tall white mod boots to complete the look. She definitely nailed it, this was one of her most talked about looks in 2019 – she wore the outfit right before her wedding to pop star Justin Bieber.
Dupe for her pricey sunglasses:
Keep It Comfy Like Ciara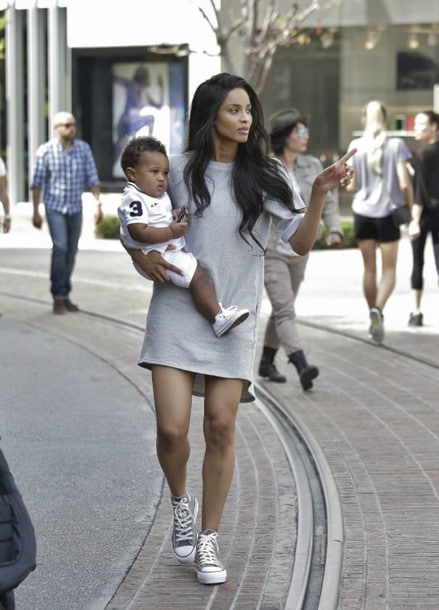 Ciara shows us how to keep the oversized tee trend in the comfy zone. Just throw on a pair of Chucks to match your t-shirt dress for a unified, but casual look. The "Goodies" singer could truly wear anything and still look like a goddess.
Find these similar grey Chucks here:
Size Up Like Kourtney Kardashian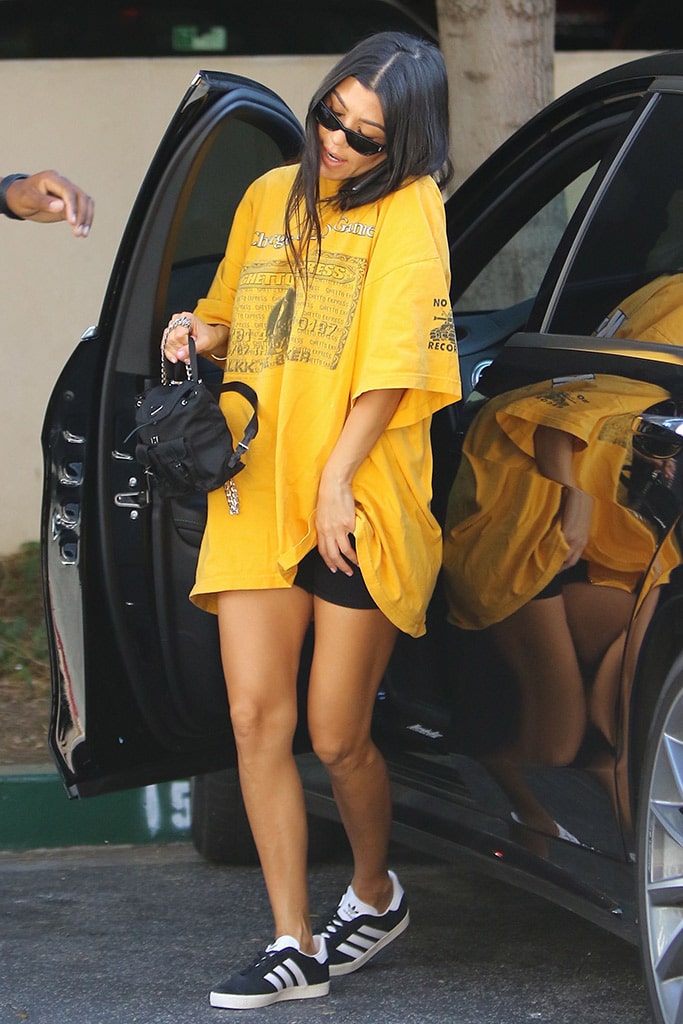 Out of all the Kardashian women, Kourtney has been known to have the best taste in fashion (at least in recent years). We love to see what she's wearing next, and we're happy she approves of the oversized t-shirt (sort of) dress look. This outfit says sizing up is probably a great idea– if you want that extra relaxed and slouchy look that is. Her cute sneakers and biker shorts are definitely stables in my closet, they go with everything.
Adidas sneakers in all kinds of colors:
Biker shorts with great reviews:
Dress It Up Like The Hadid Sisters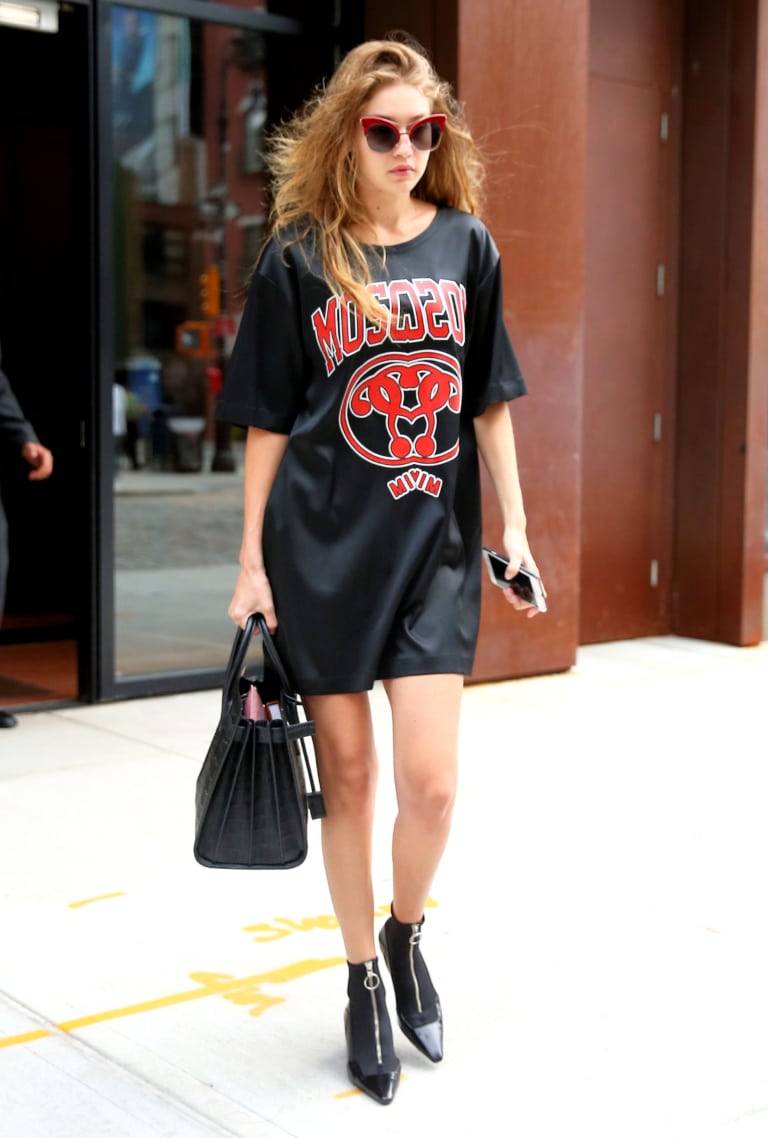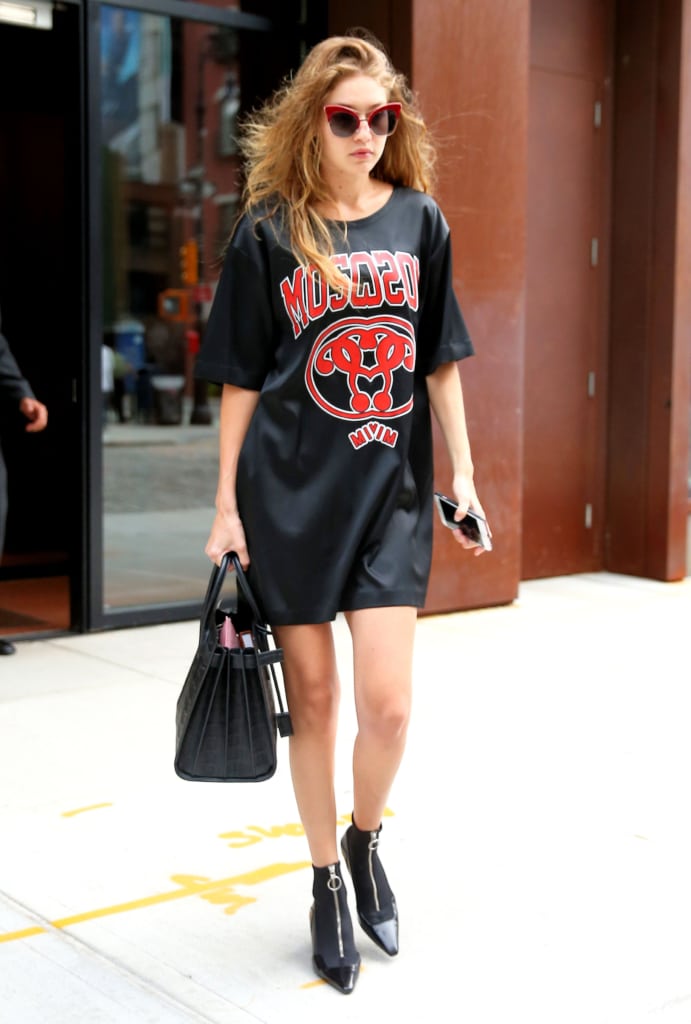 Gigi Hadid keeps her model-off-duty style leggy with some designer ankle booties, her sister did the opposite. Bella Hadid's over-the-knee boots are just as stylish though, and we love her 90s choker that match her oval sunglasses.Gigi on the other hand went with some big cat-eye sunglasses to match her big purse. Both styles are well thought out.
Classic over-the-knee boots:
Black oval sunglasses: