Our Favorite Celebrity Styles This Week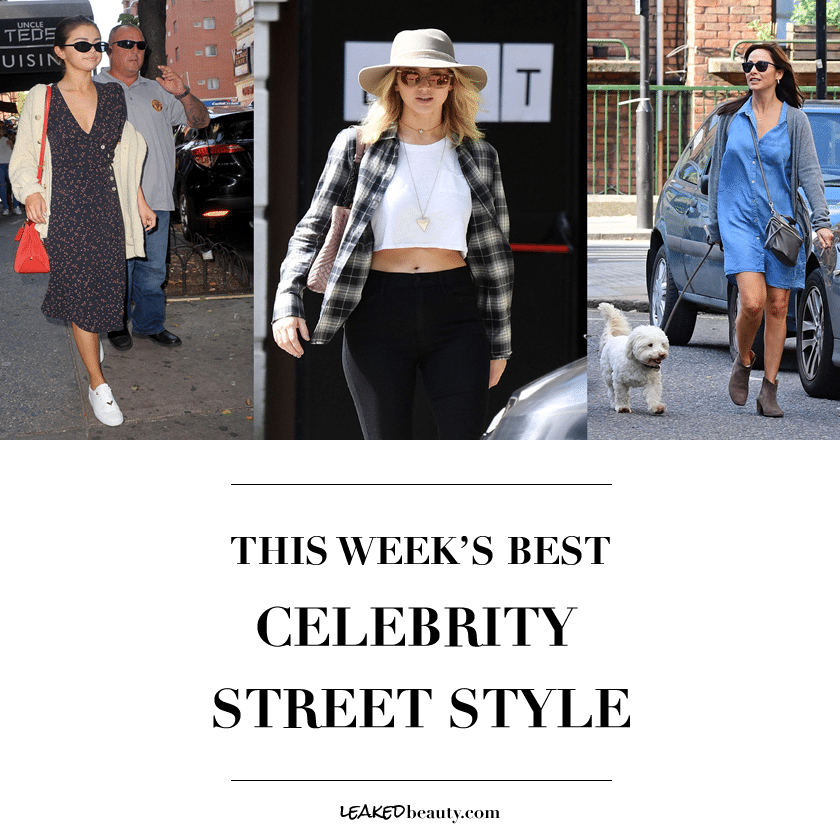 Another week, another list of celebrities who are inspiring us with their street style game. It's fun to see what some of these famous fashionistas come up with during this time of the year – you'll see a mix of summer trends with cozy fall weather pieces – these ladies (or their stylists) truly get creative.
If we know where they got their threads, we'll name the source. If not, we'll tell you where you can find something similar.
Well, get ready for an abundance of style inspiration for your Pinterest board this week. Enjoy!
Best Dressed | Week of September 5th, 2017
Selena Gomez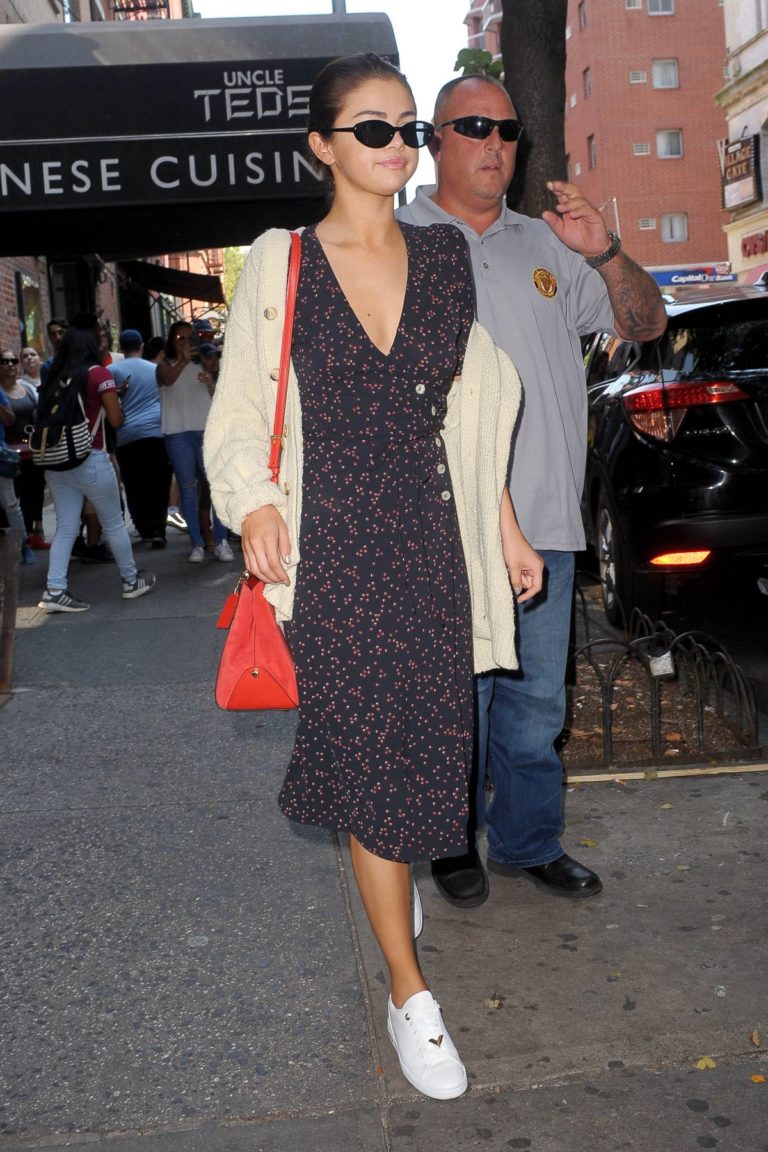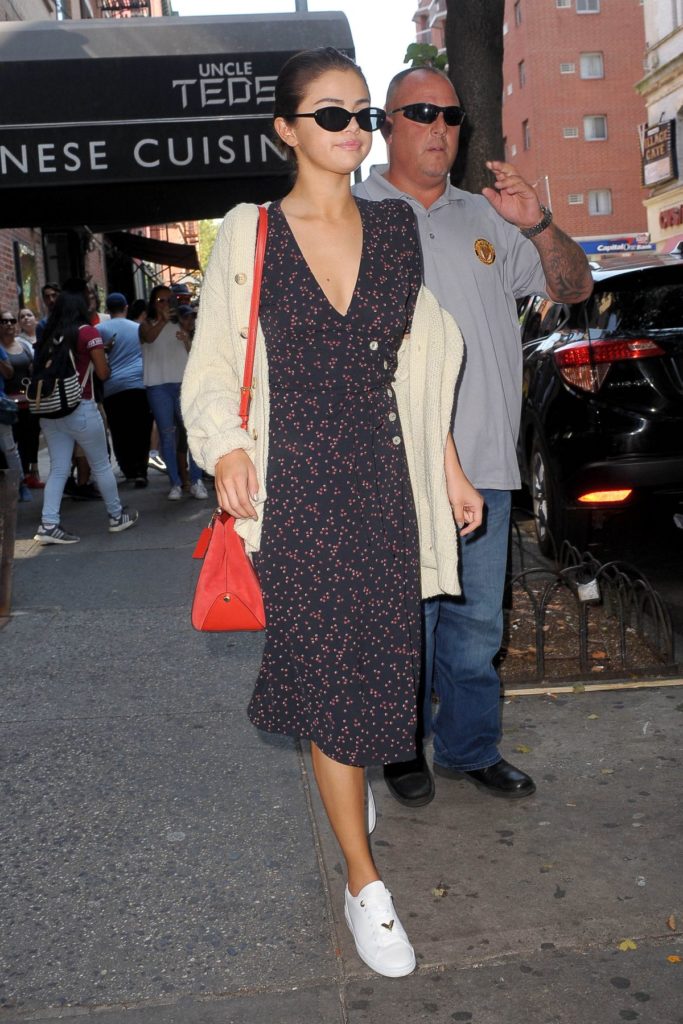 ___
Dress: She's wearing Rouje, but we fancy this Kimchi one as well.
Cardigan: Billabong/Free People
Sunglasses: She has on Roberie & Fraud, but this one is nice too  Venice Oval.
___
Why we like it:
Selena has been killing it lately with her wardrobe attire – she somehow always brings a luxurious edge to a classic style. We love the details in this get up – the red suede purse for fall, the adorable side buttons on her dotted dress (designed by French muse, Jeanne Damas) and those oval sunglasses which frame her face quite nicely.
Jennifer Lawrence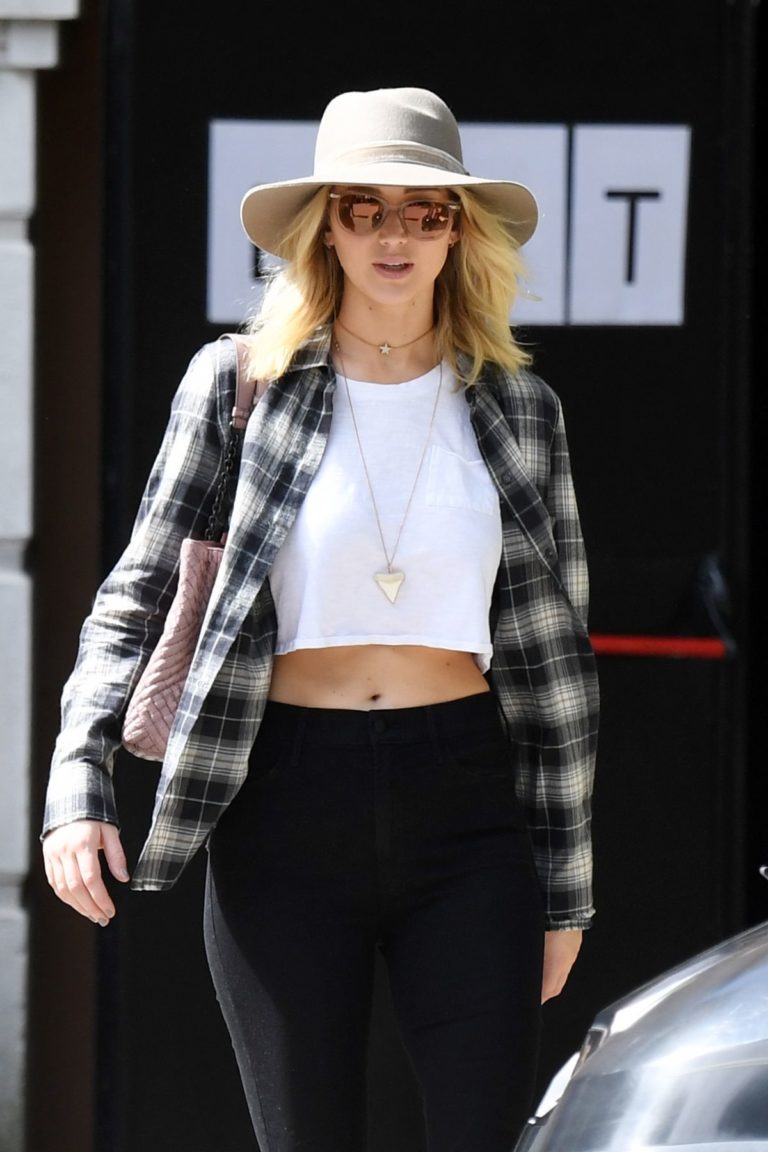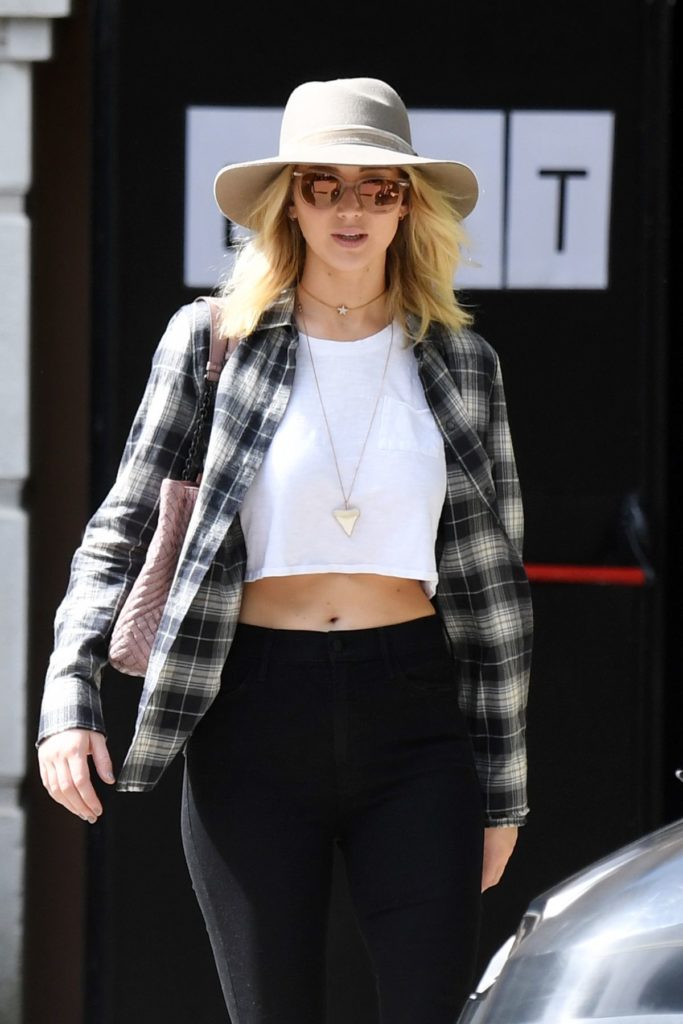 ___
Hat: RVCA Sunner Hat
Sunglasses: Ray Ban Erica Sunglasses
Plaid Shirt: BDG Brendan Cozy Button-Down Shirt
Crop Top: American Apparel Crop Tee
Black Jeans: BDG Kick Flare Cropped Jean
___
Why we like it:
Jennifer's leisurely style while walking around Venice this week was perfect for a warm day transitioning to a chilly night. We personally like the flared black pants, pointy ankle-wrapped flats and simple white crop-top under a muted plaid shirt. Simple, but stands out.
Selena Gomez (again)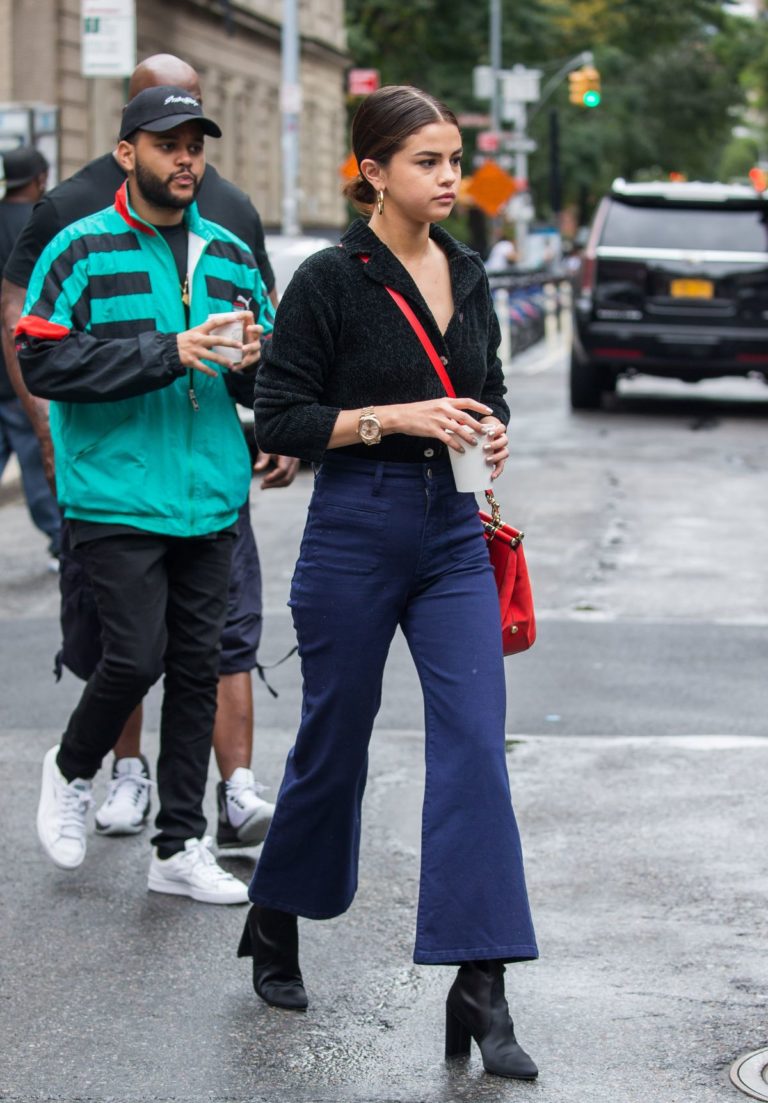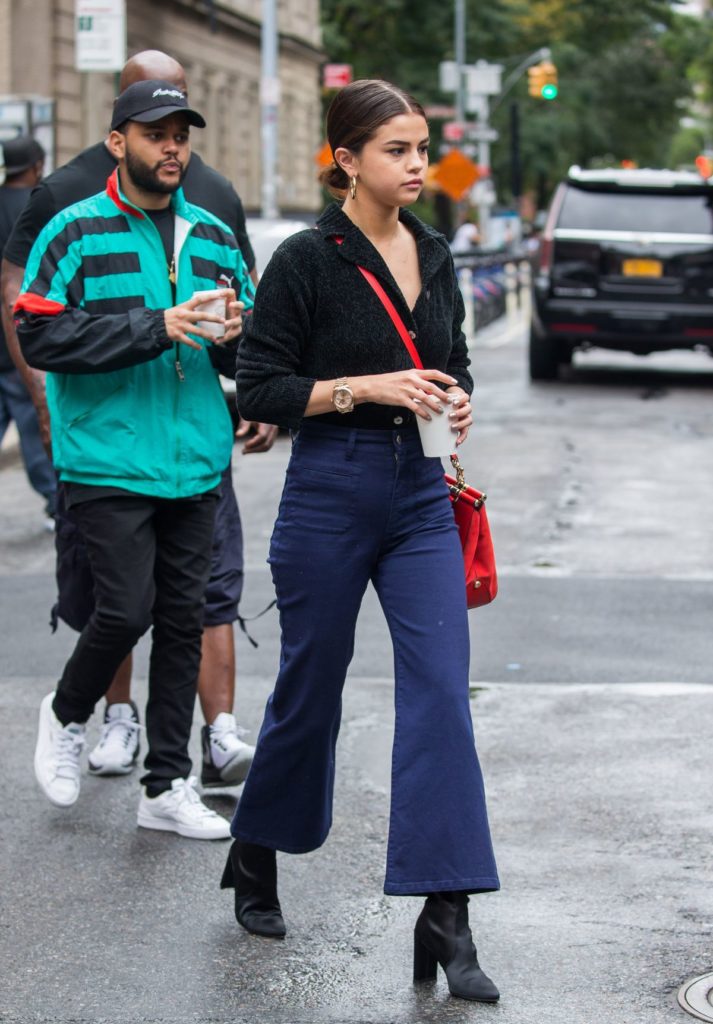 ___
Top: We think you could pull it off with this Eyelet Ruffle Blouse
Jeans: Free People Vintage Flared Jeans
Sock Boots: Gaze Ankle Bootie By Steve Madden
Earrings: Thick Gold Hoops
Purse:  Selena Grace Bag/this more affordable one from Top Shop Susie Mini
___
Why we like it:
It's easy to see why Selena made it twice on our list this week, her fashion sense has been impeccable over the last year. In our opinion this is the perfect Autumn get-up –  we dig her cropped and flared jeans, the dark suede sock-booties ( a must-have item) and her cozy button up top. Sel's thick gold hooped earrings complete the look. Oh yeah, and her red purse is from her collaboration with Coach if you haven't heard.
Olivia Munn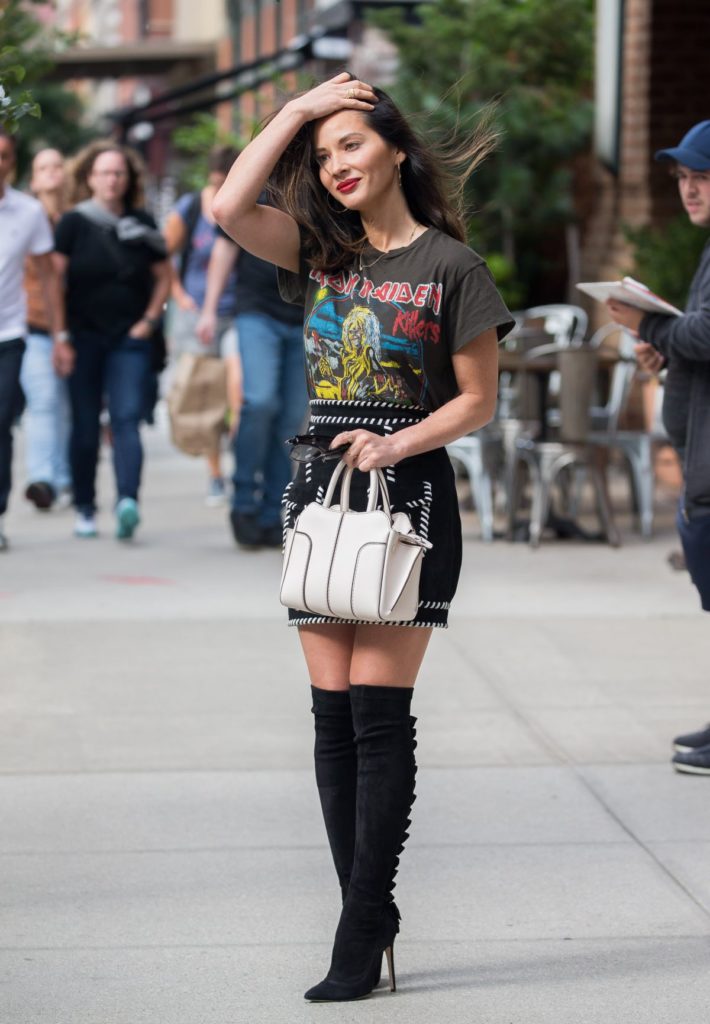 ___
Shirt: Iron Maiden Tee
Skirt: Silence and Noise Side-Zip skirt
Boots: She's wearing Olgana Paris (currently sold out), but these Sam Edelman boots are available.
Earrings: Silver Hoops
Red Lipstick: One of our favorite reds, Russian Red by Mac.
___
Why we like it:
Olivia Munn looked stunning over the long weekend. We love her bold black and white knitted skirt combined with her heavy metal rocker t-shirt and bold red lipstick. She makes the look sexier with a pair of thigh-high boots.
Natalie Imbruglia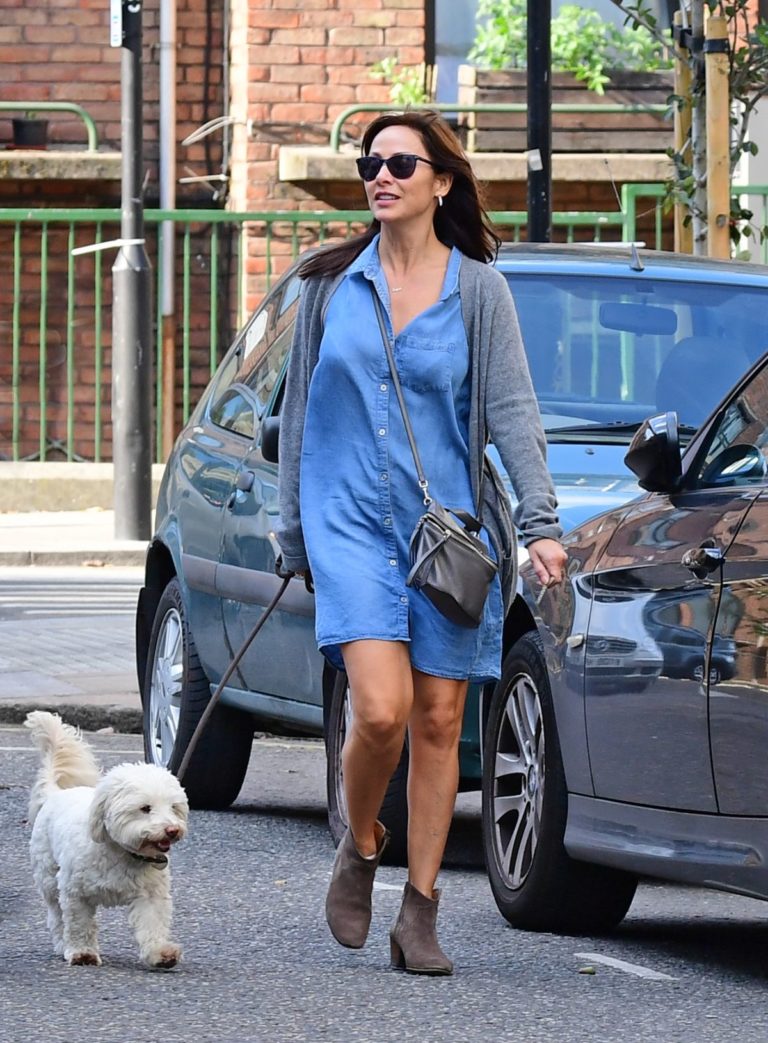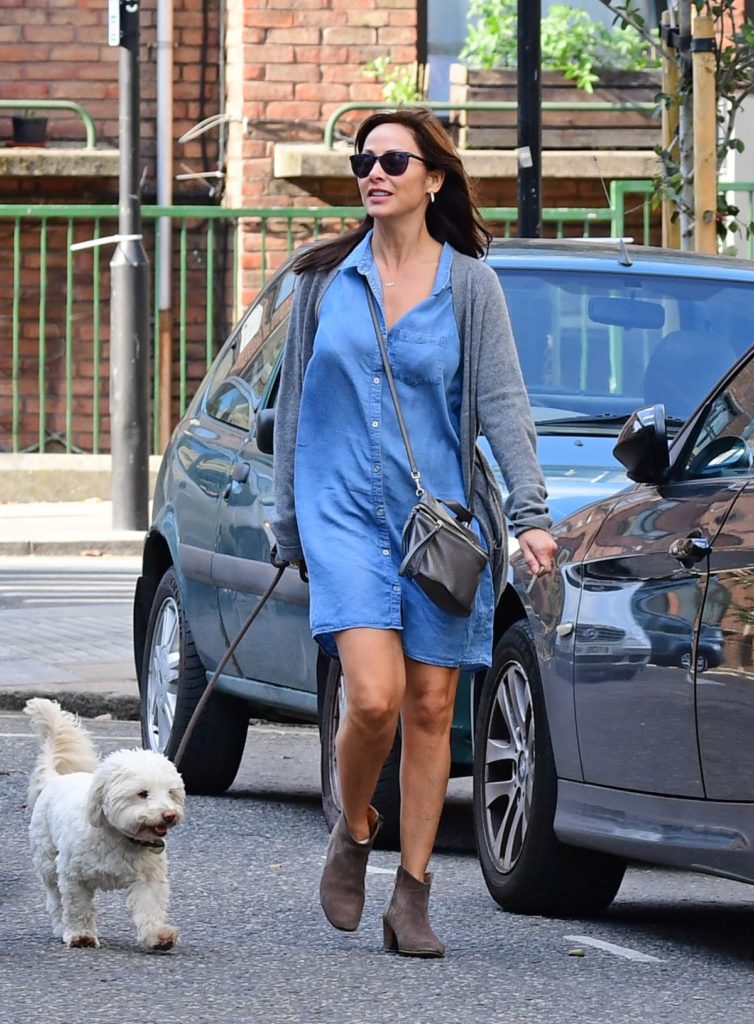 ___
Dress: Courier Denim Shirtdress
Cardigan: Kent Cardigan Sweater by Madewell
Boots: Cole Haan/Sam Edelman Petty Ankle
___
Why we like it:
Who doesn't like a denim shirt dress? It's a perfect wardrobe stable that transitions quite well from sunshine to gloomier weather. Infamous "Torn" singer Natalie pairs the dress with ankle booties and a long cardigan. It's a look we think will never go out of style.