The HOTTEST Trench Coat Looks!
Let's talk trench coats for a minute. This water resistant jacket is no longer being seen as only something Carmen Sandiego or weird streakers would wear (LOL). In fact, the trench coat look is becoming a wardrobe staple piece for most celebrities and we love them too! Trench coats are both functional and fashionable, how we wish most things would be.
I have always felt that the trench coat style can make people look extremely important – kind of like a detective or sexy business woman! All jokes aside, I really think this jacket can be worn in a number of ways. That's what is so great about them. You can dress it up or make it look very casual. The options are endless!
Since these jackets are becoming quite trendy, we decided to gather some of our favorite ways to wear a trench coat. Modeled by some of our favorite celebrity fashionistas, we will explain why the looks work and where you can find more affordable options!
How To Style a Trench Coat – Celebrity Inspiration!
Alexa Chung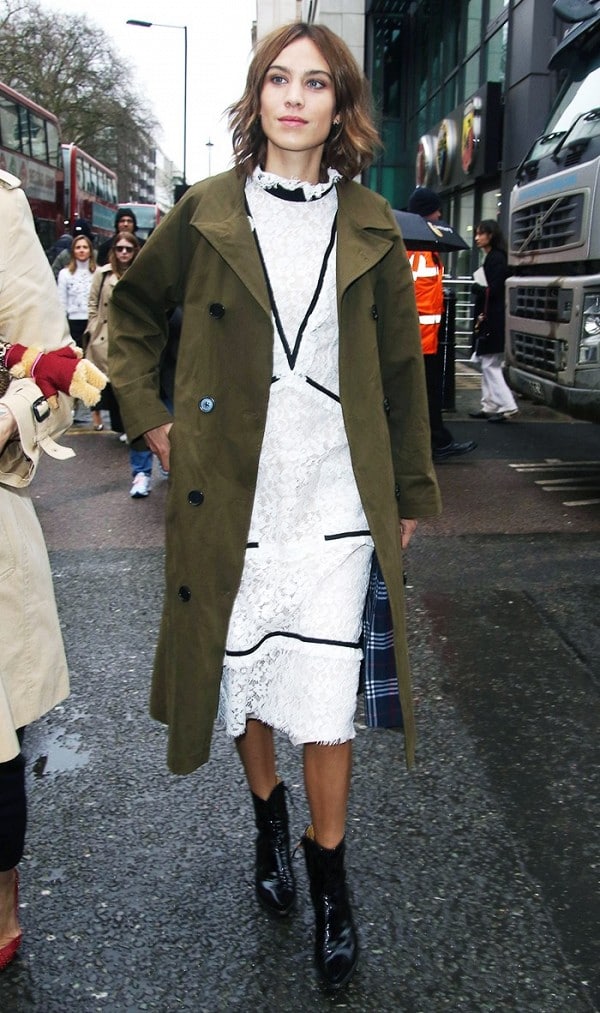 Why we love it: Alexa Chung is known for her fantastic wardrobe and for looking great no matter what she is wearing. PERIOD. This masculine trench coat over her feminine lace dress balances the the entire outfit and the black boots just tie the whole ensemble together. Perfect for those rainy days!
___
Trench: Melody Women's Casual 
Dress: Sheer Mesh Sheath Dress
Boots: Aurella Boot
___
Jessica Alba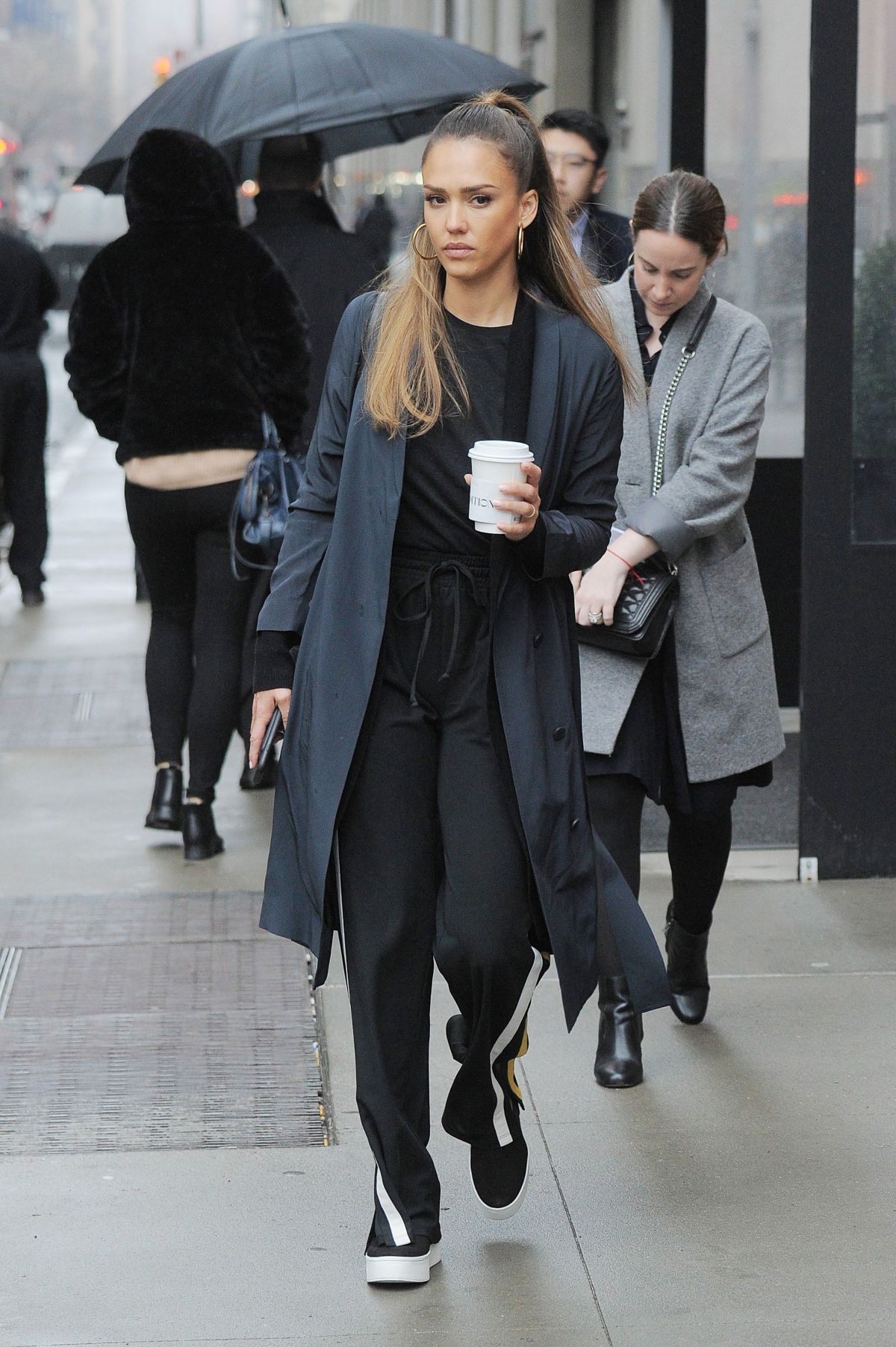 Why we love it: Now that Jessica is a mom, she understands that comfort is key some days. She may be wearing track pants and sneakers but she still looks amazing! We love that she dressed up her relaxed look with a dark navy trench. It really compliments the whole outfit and those gold hoops class things up a bit.
___
Trench: New Look Lightweight Belted Coat
Track Pant: Pull&Bear Co Ord Wide Leg Track Pant
Shoes: GILLS
___
Karlie Kloss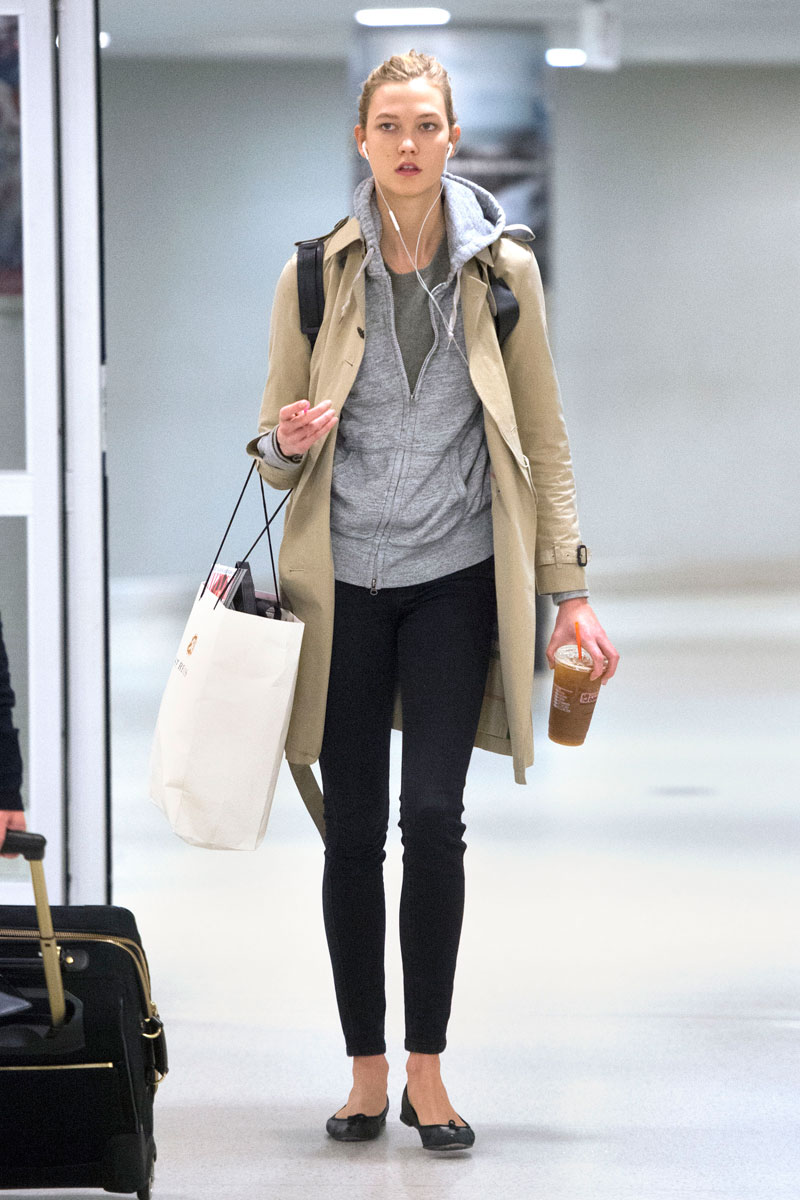 Why we love it: Aside from being a bad ass, Karli also has awesome style. She looks great even when she's not trying very hard. This outfit is a perfect example of her effortless style. We love the way she paired a hoodie underneath this classic trench coat!
___
Trench: Gap Classic
Hoodie: H&M Hooded Jacket
Flats: ASOS LIBRA Ballet Flats
___
Olivia Palermo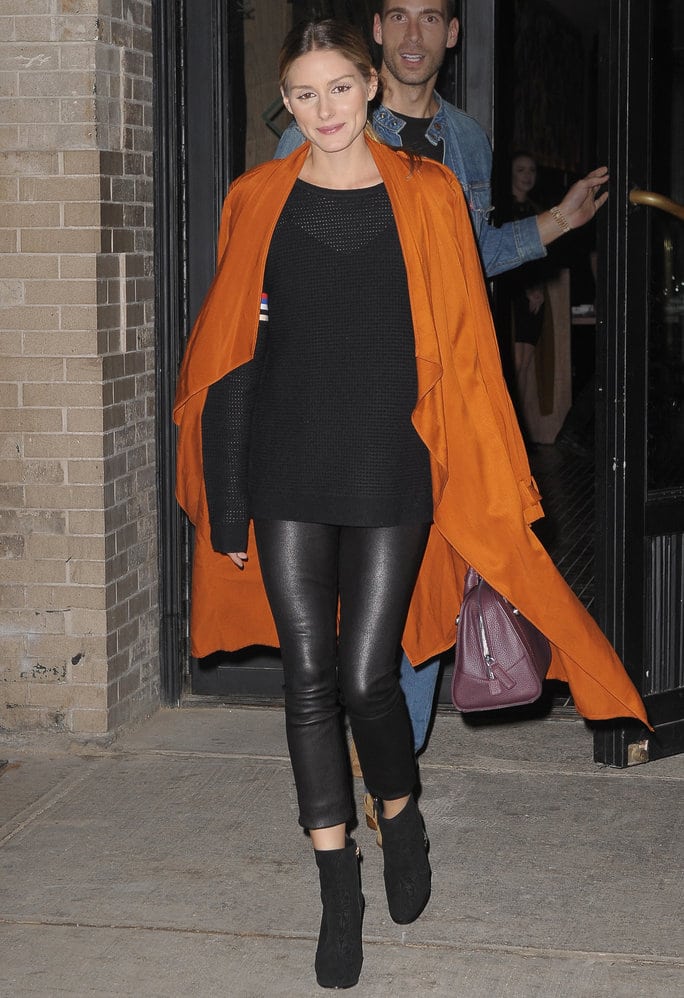 Why we love it: Oh, Olivia. She is definitely one of the classiest dressers in the fashion game. In fact, trench coats are her go to jacket. This is a bright alternative to the typical cream colored trench. We love that she paired it with an all black outfit. Very sexy!
___
Trench: Express Soft Drape
Pants: Mango Contrasting design leggings
Boots: H&M Black Boots
___
Miroslava Duma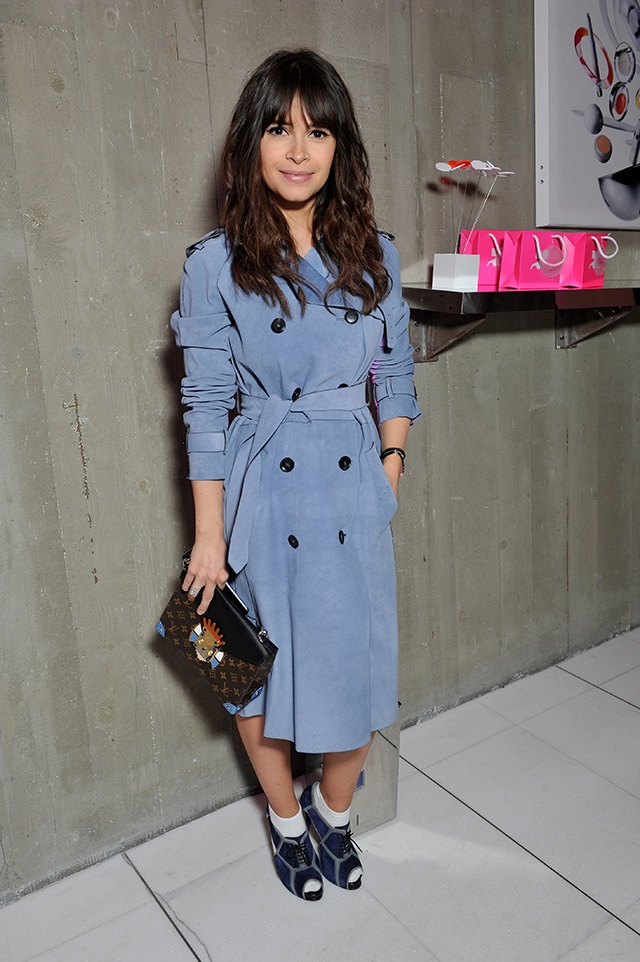 Why we love it: Miroslava Duma is the queen of fashion! She loves wearing bright colors and bold prints but this is a toned down outfit looks fabulous as well. This trench coat's soft blue color is lovely! The marvelous fashion guru pulls this off with ease!
___
Trench coat: Flowing Zara
Shoes: Sweeorn Lace-Up Bootie
___
Alexa Chung (again!)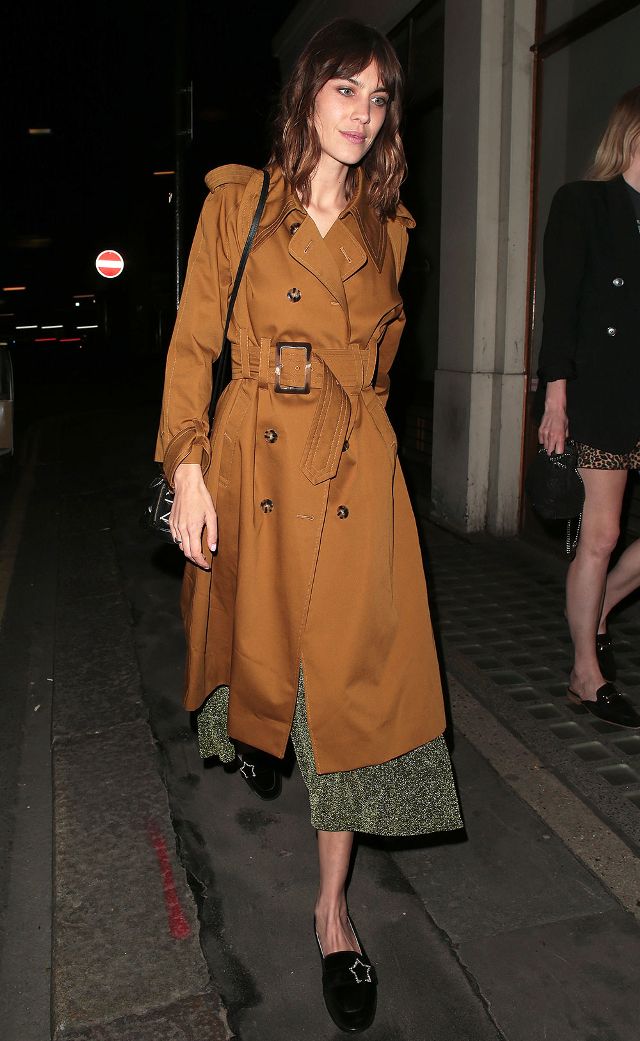 Why we love it: That's right its Alexa again! We had to pick another one of her outfits because she is just a genius when it comes to fashion! We love the earthy color combination of the burnt orange trench coat and the mossy green dress that Alexa is rocking. Perfect for fall!
___
Trench coat: Madewell denim duster coat
Dress: Ribbed Mockneck Midi Dress
Loafers: Sam Edelman Lior Loafer
___
Vanessa Hudgens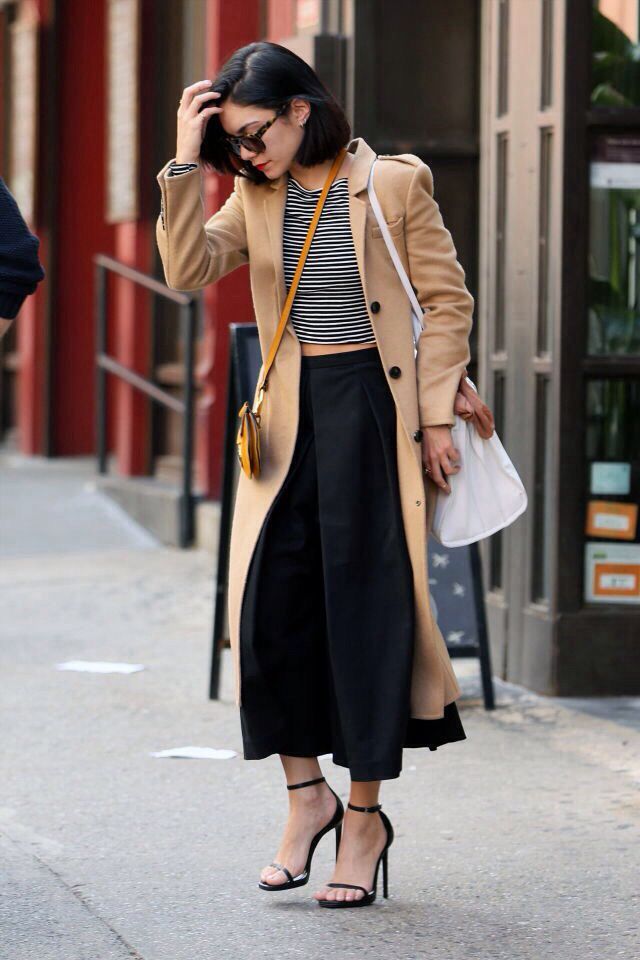 Why we love it: Vanessa's style is always evolving. She is that brave soul that tries out different looks on a whim and pulls them off greatly. Everything about this outfit screams classic french girl and we adore it! Her plush trench is just the cherry on top!
___
Trench Coat: Zara Lightweight
Top: Out From Under Taylor Cozy Mock Neck Top
Skirt: ASOS Midi Skirt with Box Pleats
Shoes: Caraa Heels
___
Kendall Jenner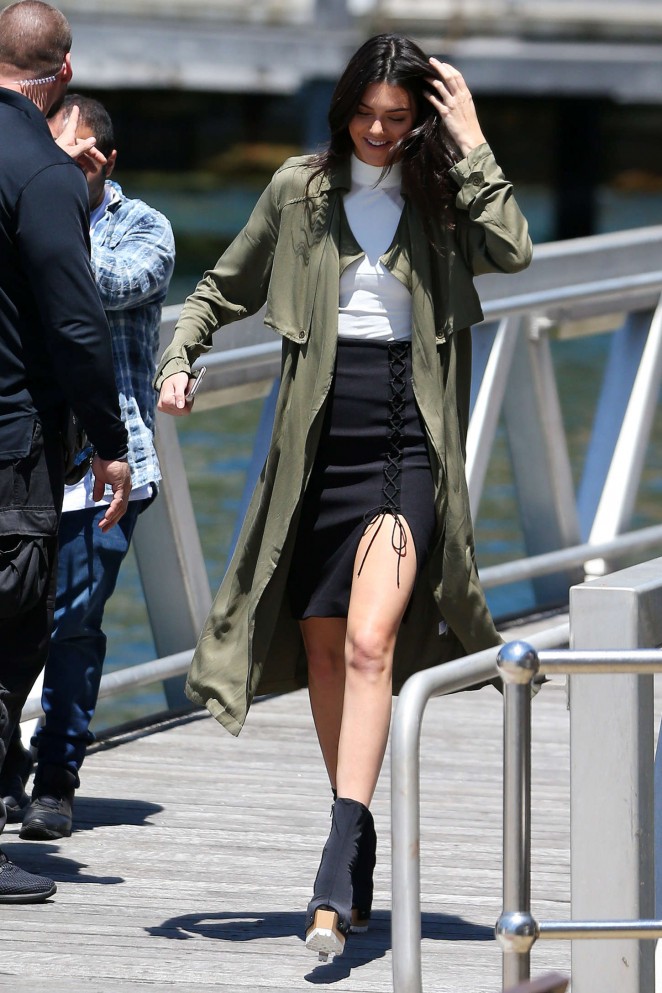 Why we love it: Kendall has fantastic style. She knows how to create classic outfits with a little edge.  This trench coat compliments her black and white outfit perfectly! Great for those warmer fall days.
___
Trench Coat: Nordstorm Belted Drape Front
Pencil Skirt: New Look Stud Pin Pencil Skirt
Booties: Steve Madden Gaze Boots
___
Julianne Hough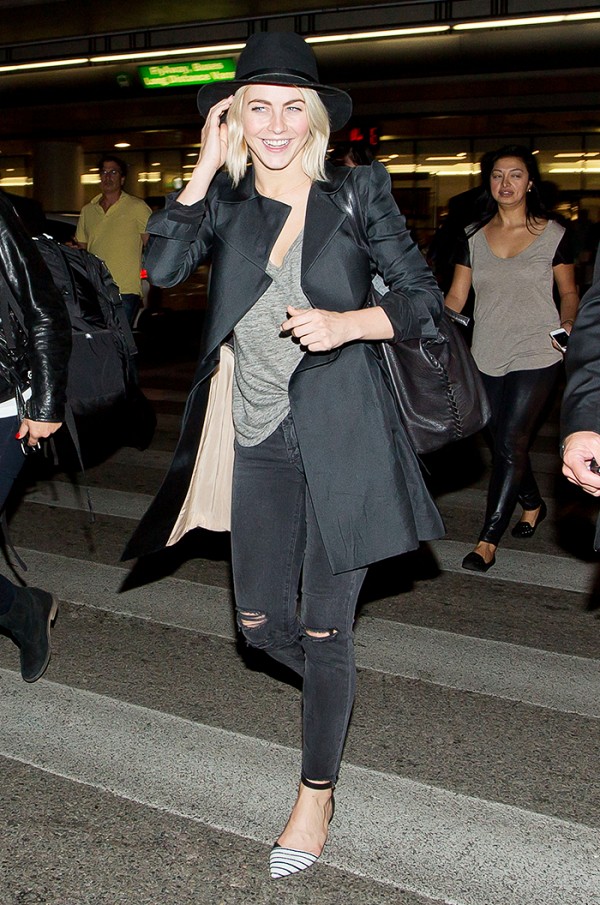 Why we love it: Julianne's style is youthful and fun! She always looks fantastic and loves to explore new trends. We love that she paired this classic trench with an all black ensemble. The monochromatic look is always a great idea and the small pop of white pairs perfectly with the whole outfit.
___
Trench Coat: ASOS Petite Skater Trench
Jeans: BDG Twig Ripped High-Rise Skinny Jean
Shoes: Journee Collection Malina Flat
___
Liv Tyler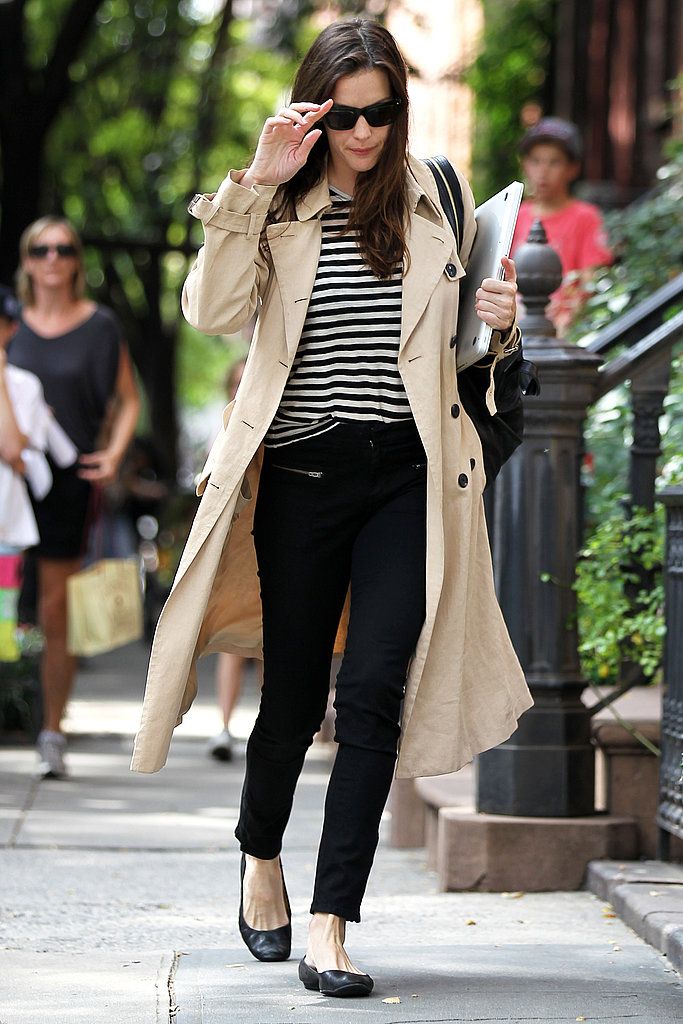 Why we love it: Liv Tyler is a classic beauty and her wardrobe is timeless. This outfit is perfect for a casual Friday at the office. It screams business woman but in a very cool way!
___
Trench Coat: Zara Lightweight
Pants: River Island Zip Detail Skinny Pants
Shoes: AEO Classic Scrunch Ballet Flat
___