Recreate Her look: Rachel Bilson Style
We all have that one celebrity we idolize because they have great hair, makeup or fantastic style. I don't know about you guys, but I have always loved The O.C. star, Rachel Bilson. She has fantastic street style and always looks on point even when she is out running errands! The Rachel Bilson style is laid back and tomboyish, but with a feminine twist (exactly my kind of thing!).
I am a fan of Rachel Bilson's style because her outfits are really well thought out and since she is a petite woman like myself, I can relate to her in a lot of ways. If you are one of those unfortunate souls that are under 5′ 5″, you know how painful shopping can be. NOTHING fits. Things are simply too long or sit weird on your body because you don't have a long enough torso. #shortpeopleproblems.
Well my friends, aside from knowing a great tailor, Rachel also knows how to pick out clothing that compliments her small frame. This is something that I have really tried to be more mindful of when I go shopping because I don't want to look like I'm drowning in my clothes which can make you look really frumpy.
Since Rachel's style is fairly easy to recreate, I have picked a few of my all time favorite Rachel Bilson style "street looks". You can find most of these pieces at stores like Urban Outfitter or ASOS (which has a petite line – score!).
How To: Rachel Bilson Style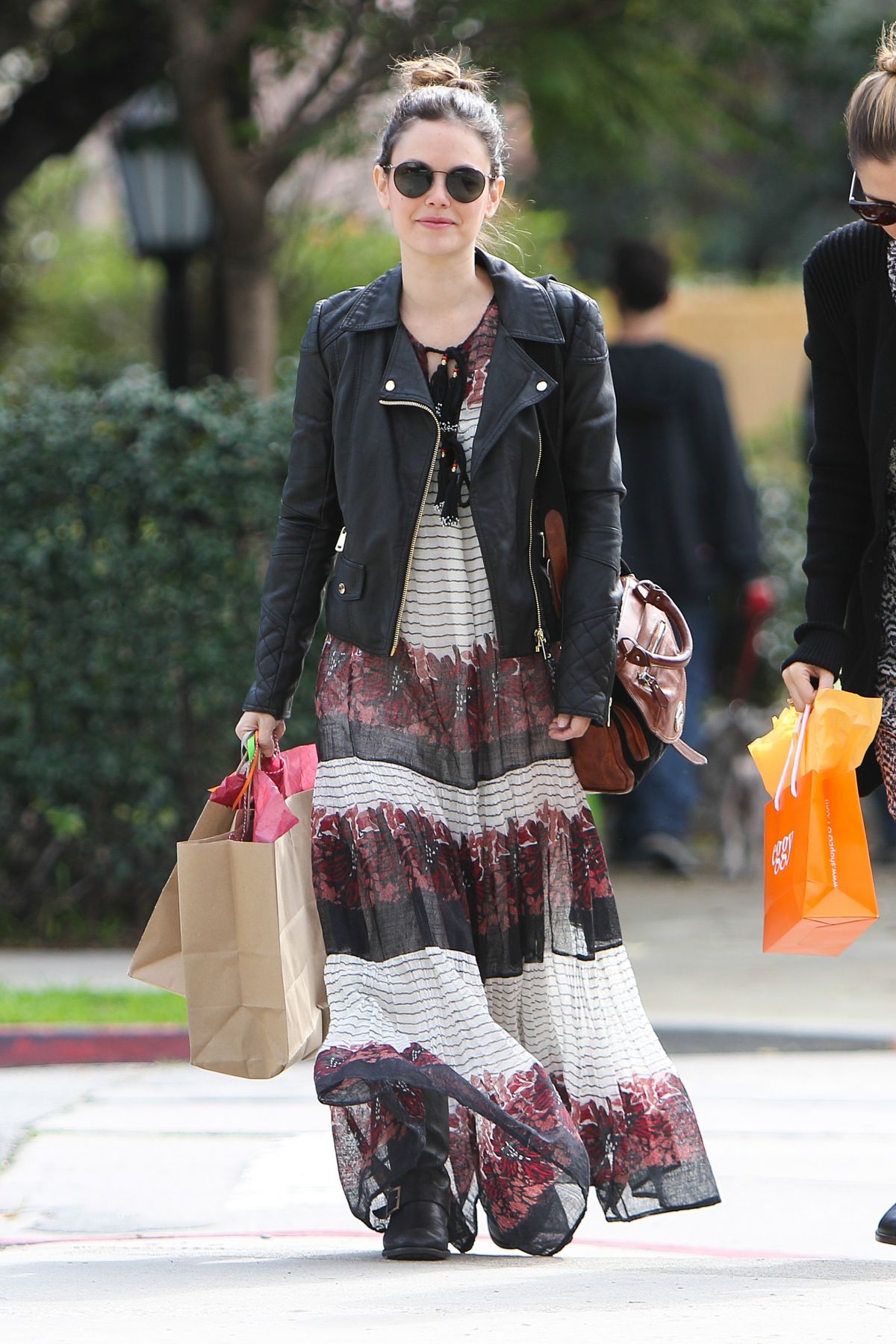 Why I love it: Rachel pulls of this maxi dress perfectly. I love the combination of the sheer dress with the moto jacket.
___
Sunglasses: Ray Ban
Moto Jacket: Noisy May Leather Look Jacket
Dress: ASOS Floral Cami Pleated Maxi Dress
Boots: ASOS CASH Knee Boots
___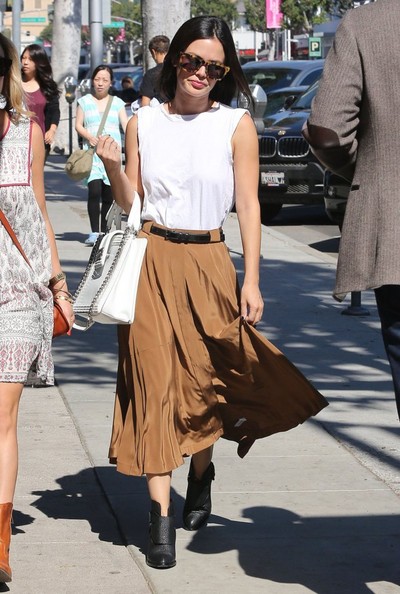 Why I love it: This outfit is the perfect combination of feminine tomboy and its great for those cooler summer days.
___
Sunglasses: Ray Ban Jackie O Sunglasses
Tank top: Out From Under Felicity Tank Top
Belt: ASOS Fine Oblong Clean Waist and Hip Belt
Skirt: Drawstring Midi Skirt
Boots: Franco Sarto Granite Bootie
___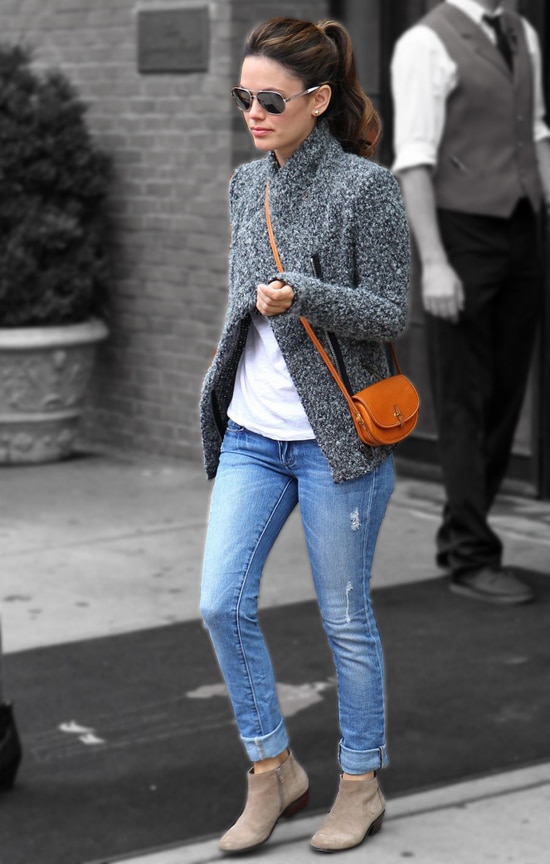 Why I love it: This outfit is great for fall! The boyfriend jeans and sweater jacket work really great together.
___
Sunglasses: Aviator Large Metal Mirrored Non-Polarized Sunglasses
Sweater: Short Marled Cardigan
Jeans: Levi's 721 High-Rise Skinny Jean
Boots: Sam Edelman Petty Chelsea Boot
___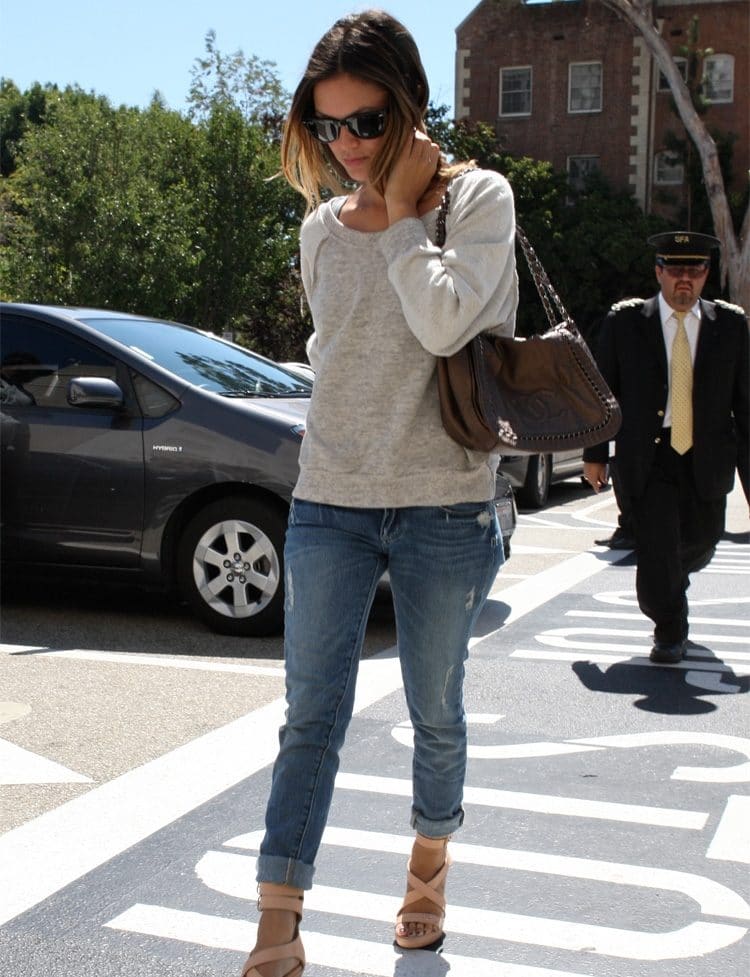 Why I love it: This is another great casual outfit that she has dressed up with heels. This could work great for a afternoon date or lunch with the girls.
___
Sweater: Ocean Drive Crew Neck Sweatshirt
Jeans: American Eagle Tomgirl Jeans
Heels: B.P Sky Wedge Sandal
___
Rachel Bilson Airport Style
Rachel Bilson Dresses
Rachel Bilson in Jeans
Rachel Wearing Shorts
Rachel Bilson's Skirt Looks