Selena Gomez Shares What's Inside Her Makeup Bag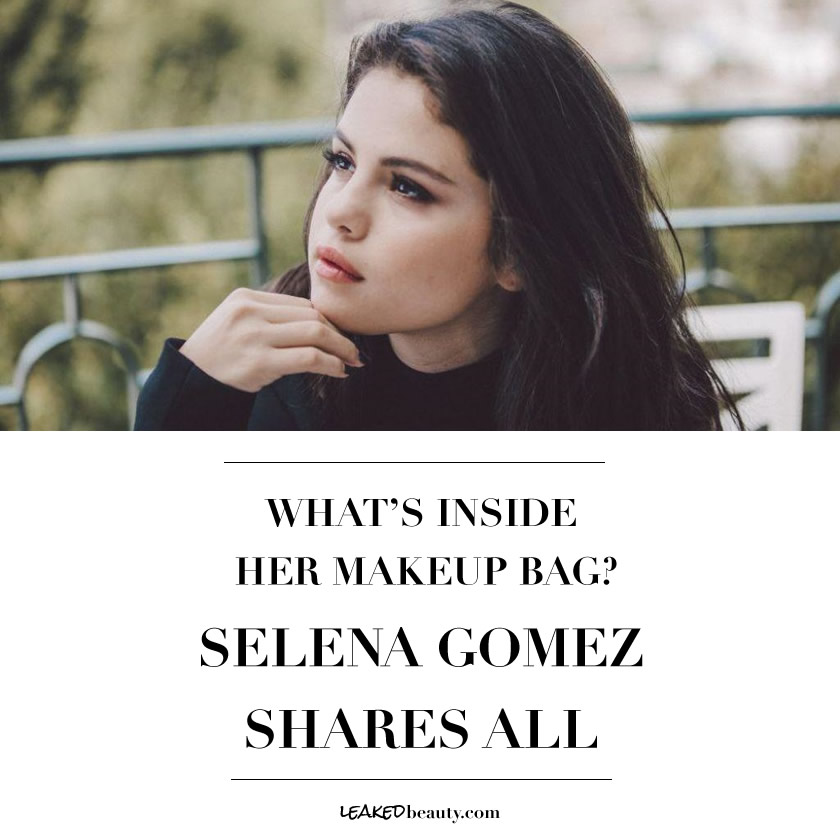 Selena Gomez has always been a natural beauty but in the last few years she has transformed her look from the sweet girl next door type to sexy bombshell and we are loving her new mature look!
The pop singer embodies sophistication and class and her makeup is always flawless.
We wanted to know how she enhances her best features without overpowering them with too much makeup. So we decided to do a little research to find out what her favorite go to products are.
Let's take a look!
You might be surprised but Selena doesn't go overboard on the products to complete her everyday makeup look. Just a few easy steps and BAM her look is complete. If only it was that easy for all of us, right?!
She doesn't use anything too fancy or outrageously priced either. In fact, some of you skincare and makeup junkies might already have some of the items she uses. This makes us think that Selena is down to earth and lives a fairly "normal" life outside of her celebrity life.
We can't get enough of her fresh look at the WE Day California in Los Angeles:
We all know that good skincare habits are super important and apparently so does Selena! She's one of the rare stars out there that still looks stunning with a totally bare face.
Her grandma and mom taught her the importance of moisturizing at a young age and told IntoTheGloss:
"Even though my nanna is only in her late 50s now, she's taken care of her skin for as long as I can remember. She would always smell so good because she'd wash her face with Oil of Olay, and then she would moisturize, and she would just lie down and go to sleep. So when my mom hit about 21, my nanna started giving her old Olay products, sort of like hand-me-downs—even when my mom tries new things, she always goes back to Olay. And it must work because my mom has the most incredible, beautiful skin."
She also mentioned that it's really key to start the day off with a clean face…
"When I don't get a chance to do the whole routine in the morning, it really bums me out. It kind of affects your mood when you don't take enough time to pamper yourself. When I'm home, I like to wake up at least an hour before I need to just to have coffee and not have makeup on."
So what exactly is in her makeup bag?!
Skincare
For cleansing

Clarisonic and Sonic Radiance Skin Renewing Peel Wash.




For radiance

Dr. Dennis Gross Clinical Concentrate Radiance Booster.

For dark circles

First Aid Beauty's Eye Duty Triple Remedy.


For blackheads




Makeup

For foundation

Laura Mercier Oil-Free Supreme Foundation.

For powder

MAC Mineralized Skinfinish.

For eyebrows

Instant Brow Pencil and Gimme Brow from Benefit.

For lips

Fresh Sugar Lip Serum, Chanel Lèvres Scintillantes Glossimer and Nars Lip Pencil.




5. For eyes

Urban Decay Naked Palette


Hair

For shampoo and conditioner

U Luxury Shampoo and Conditioner


For detangling

Unite 7Seconds Condition Leave In Detangler.


For texture

Oribe Dry Texturizing Spray.




"All this hair isn't mine—I have extensions as a sort of safety net when I'm on stage. It's really nice to have the long mermaid hair to move around while you're being blasted with the fans up there. Plus it just makes me feel pretty."

Body

For exfoliating

Bath and Body Works Aromatherapy Sugar Eucalyptus Tea Scrub
Dead Sea Mud Mask
The Body Shop brush.



For shaving

EOS Moisturizing Shave Cream


For muscle soreness

Handheld Heat Muscle Balm by Sumbody and Still Standing Pain Relieving Spray.